REVIEWS
"

Impressive performance!"
— Hyvinkään Sanomat, Helsinki, FINLAND
"

Persson is a real whiz on those ivories!" - Misha Berson, Theater Critic
— Seattle Times, Seattle, USA
"

. . . a new listener experience, where one is impressed by the virtuosity, the soft tones, an exquisite listening experience."
— Östersundsposten, Östersund, SWEDEN
"

. . . accordionist extraordinaire Jon Persson does an impressive solo version of some French cabaret standards." - Joe Adcock, Theater Critic
— Seattle Post-Intelligencer, Seattle, USA
"

Divine!" - Oscar Hedlund, Music Critic
— Dagens Nyheter, Stockholm, SWEDEN
"

Jon Persson performed both popular songs on a non-keyboard style accordion, and intricate classical pieces on the standard-keyboard instrument. Wonderful! He is a marvelous musician, plus explains the music well. " - Chris Lunn, Founder, Victory Music
— Victory Review, Seattle, USA
"

Incredible! Thank you! This was great experience, so fun and the music was great and Jon was so accommodating to our space and the amount of people in it, would definitely book again! :)" - Yelizaveta M.
— Russian Cafe "Korotchka", Seattle, USA
"

If you need an accordion player, choose Jon Persson. Jon Persson was amazing. Not only did he come dressed for our Oktoberfest party, he played amazing!! I would highly recommend Jon for any entertainment need." - Lindsay L.
— Brookdale Ormond Beach, Ormond Beach, Florida
"

Great entertainment. Very professional and talented performer!" - John F.
— The Belletini, Bellevue, Washington
"

Great Musician! Played piano during Valentine's Day dinner at our restaurant. Jon played classic music for our guests and we had many positive comments. I would highly recommend him and hope to use him again for future special events. Best of all, he made it through a snowstorm which speaks to his reliability. Thanks Jon!" - Tom
"

Perfect ambiance for our Bastille Day celebration. He played many french favorites including La Vie en Rose. He is a gifted musician and a pleasure to work with." - Mary D.
"

Excellent! Jon was a wonderful musician whose performance took our Bastille Day party to another level. We hope to hire him every year." - Brian T.
NEWSPAPER ARTICLES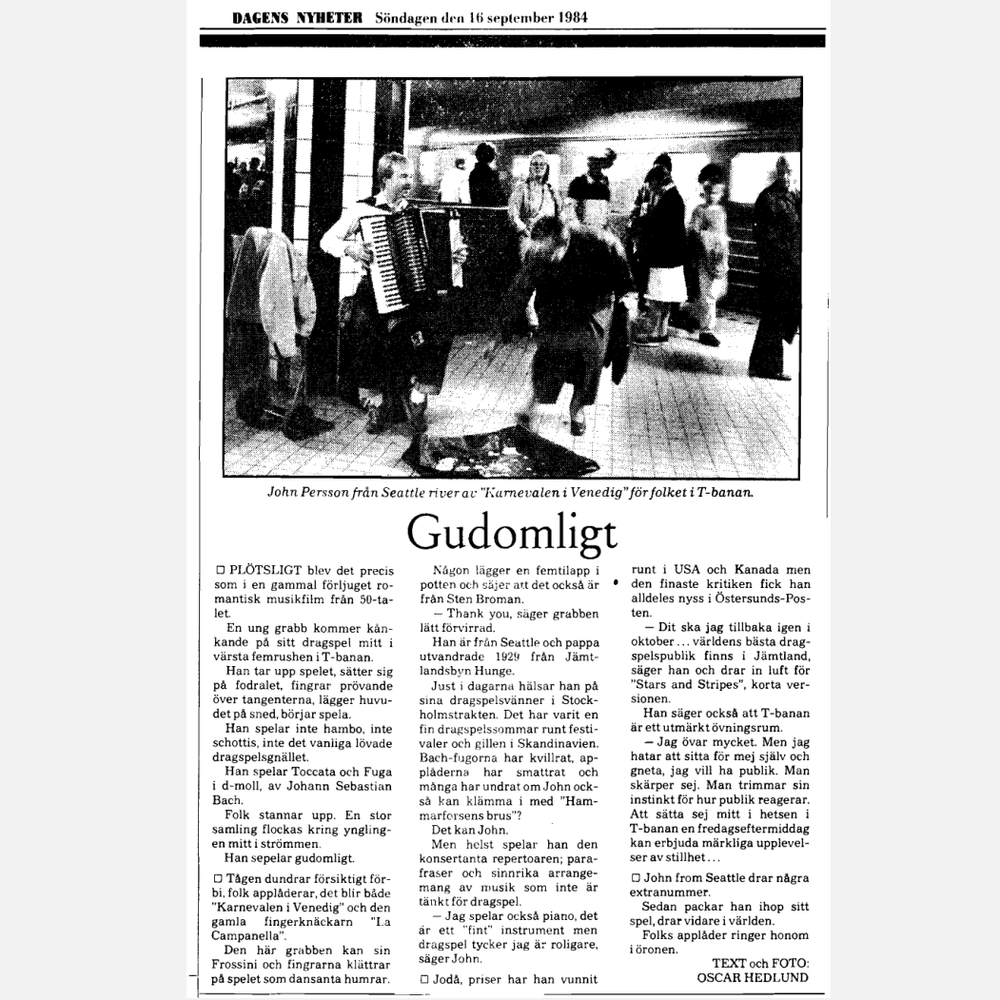 DAGENS NYHETER, Stockholm, Sweden
"Divine"
While Jon is busking in the Stockholm Subway, the classical music critic from Stockholm's leading newspaper (Dagens Nyheter) writes a whimsical article about the effect of the music.  (English translation to come soon)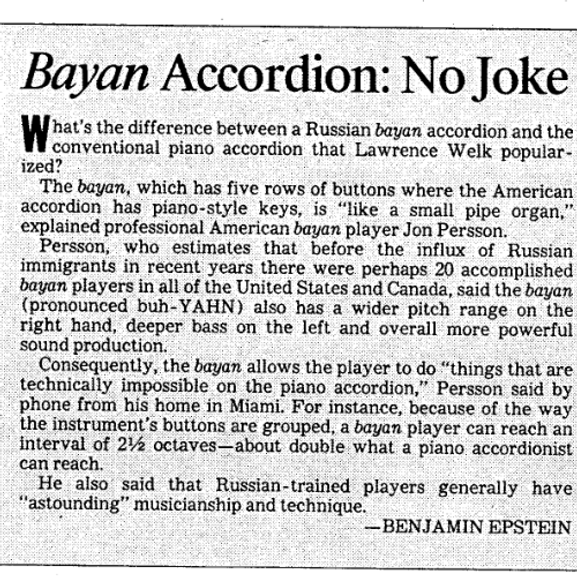 THE LOS ANGELES TIMES, Los Angeles, USA
The Russian Accordion: Bayan
One of the L.A. Time's music critics does an interview about the nature of the Russian classical accordion, the Bayan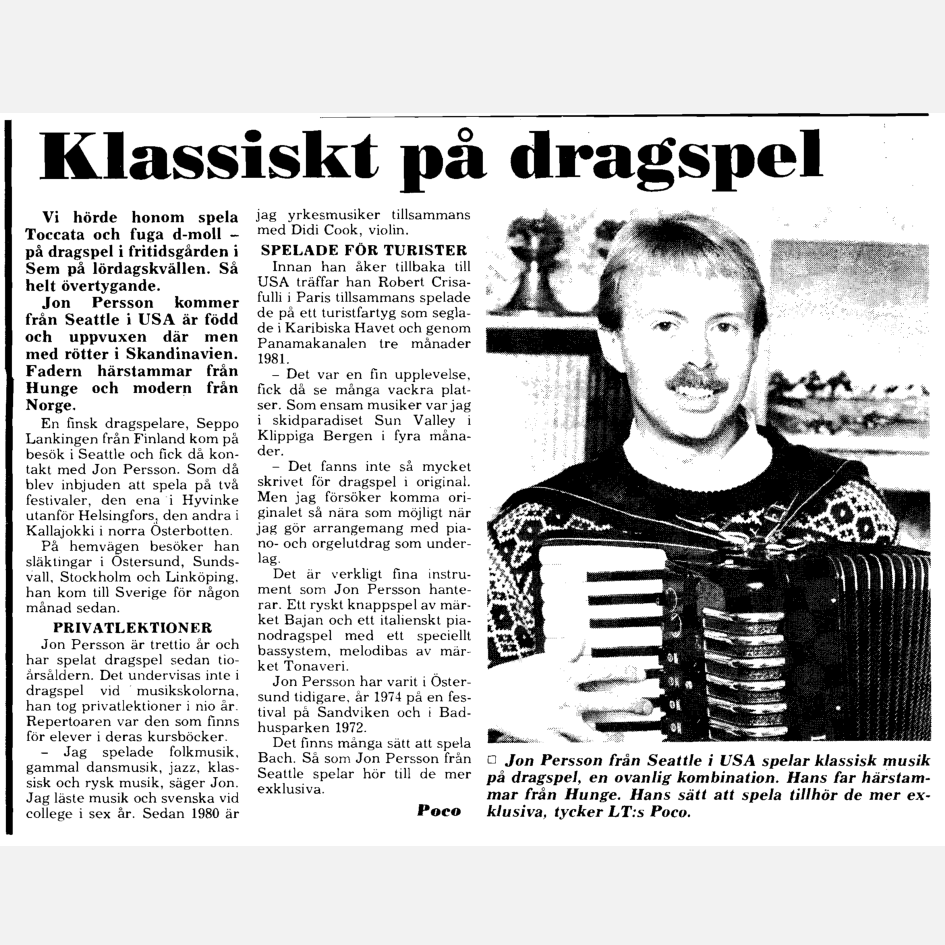 LÄNSTIDNINGEN, Östersund, Sweden
"Classical On Accordion"
A Swedish interview from the 80's about classical music played on the accordion. (English translation to come soon)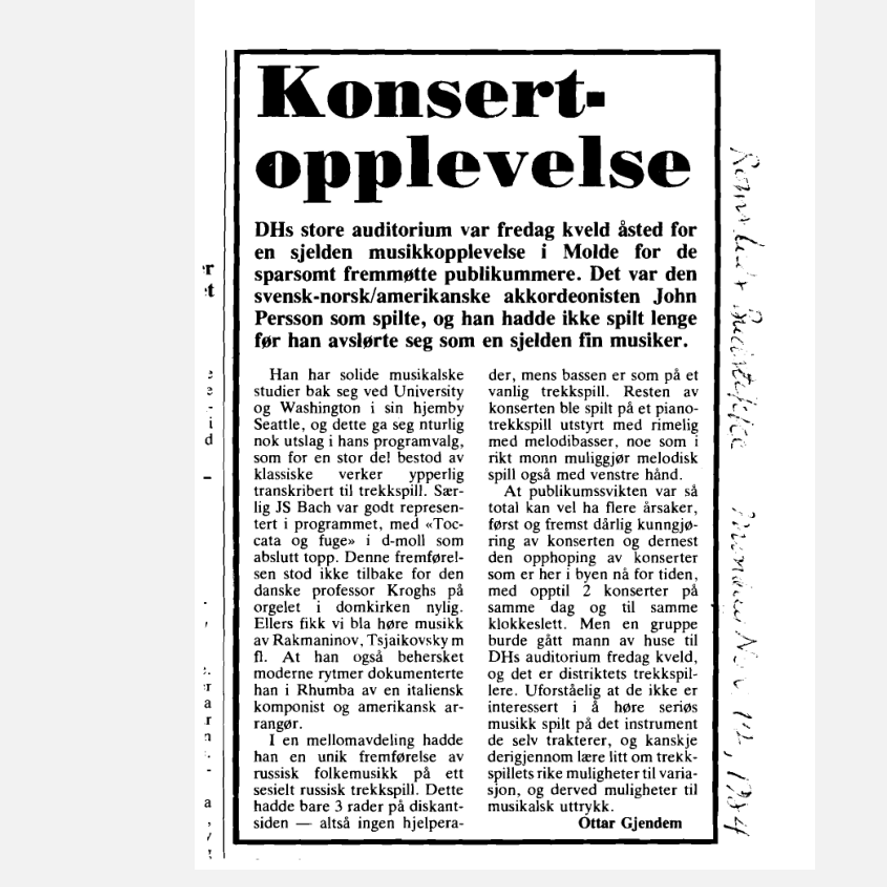 ROMSDALS BUDSTIKKE, Molde, Norway
"Concert Experience"
Norwegian interview with local newpaper classical music critic. (English translation to come soon)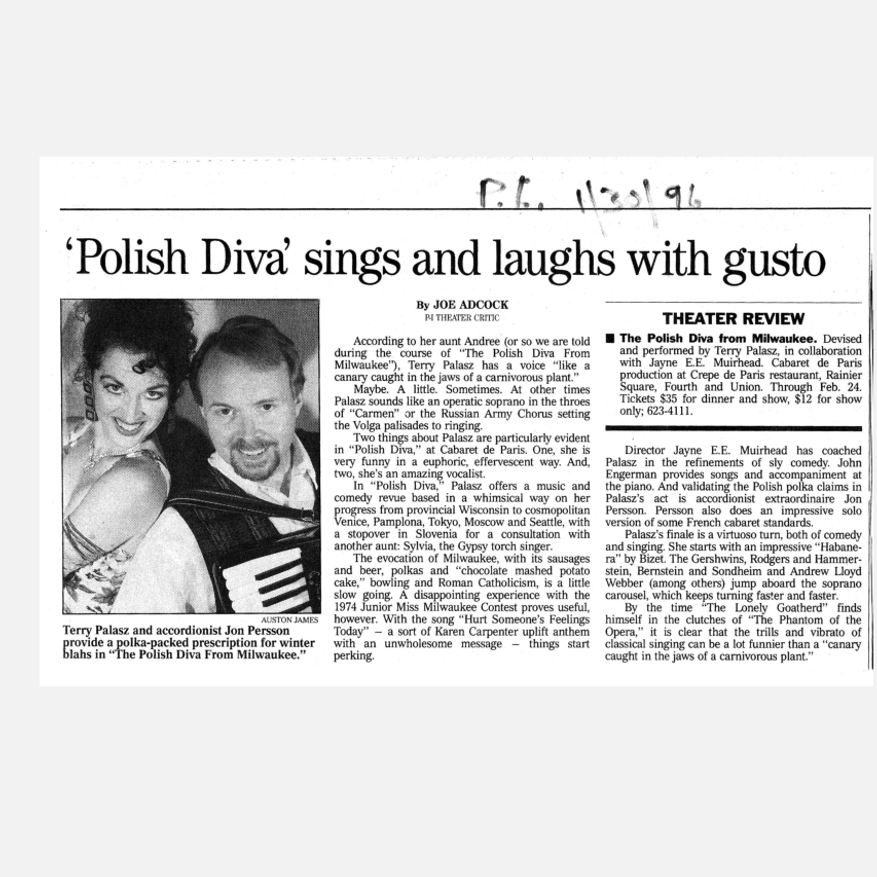 THE POST-INTELLIGENCER, Seattle, USA
"Polish Diva" Cabaret Show Review
Review of the hit show created by New York singer/comedienne/diva Terry Palasz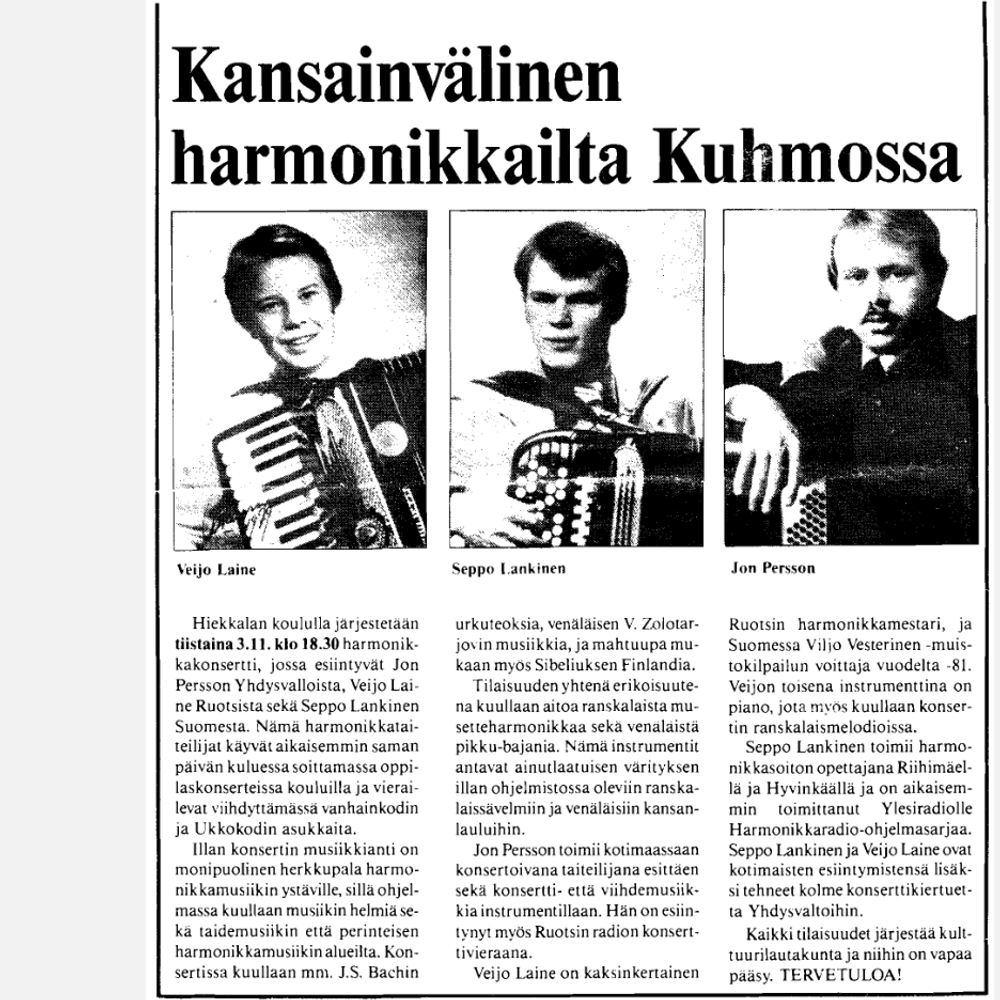 PITÄJÄSRIIVALI, Kuhmo, Finland
"International accordions in Kuhmo"
"Jon Persson works in his home country, performing as a concert artist,
mixing concert and entertainment music with his instrument. He was also a guest on Swedish Radio."